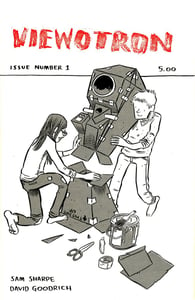 $

4.00 - On Sale
A brand new comic book from Sam Sharpe and David Goodrich!
Stories include:
-"The Greatest Love Affair" about an unappreciated housewife who can speak to household appliances whose life is torn apart by her secret love affair with an iron.
-"Every Celebrity Ever" in which a passing resemblance to a celebrity is taken to its dark, logical, conclusion.
-Plus "Thick Masterson: The World's Worst Movie Studio Executive" and more!
Offset printed using soy ink on 100% recycled off-white paper. Standard comic book size (10.25 x 6.75 inches) 40 pages. Hand stamped covers. It even smells nice. You'll like it!